This series of three workshops is intended for leaders (executive managers, deans, directors, chairs, and supervisors, level 12-17) from across the University to work together to improve the current climate and culture in their units and across the greater campus community. In the first program, participants will be introduced to key issues encountered in the workplace and why it is important for leaders to take initiative in setting the tone for improving the culture and climate. The second session will then acquaint participants with a toolkit for assessing the climate in their unit. In the third session, participants will explore ways to work towards building a more respectful and inclusive work environment.
This series is a collaboration between the Office of Faculty and Academic Staff Development, Academic Human Resources, Human Resources, Office of Institutional Equity, Prevention, Outreach and Engagement. and Inclusion and Intercultural Initiatives.
Each session builds on content from the previous one.
Session 1: Setting the Tone: An Introduction to Changing Climate and Culture
Experts and Panel
Rebecca Campbell, Professor, Psychology, Chairperson of the MSU RVSM Expert Advisory Workgroup and Presidential Advisor
Carrie Moylan, Assistant Professor, Social Work
Lydia Weiss, Climate & Response Specialist, Prevention, Outreach and Education Department
Suzanne Lang, Interim Associate Provost and Associate Vice President for Academic Human Resources
Joe Salem, Dean, MSU Libraries
Teresa Mastin, Chairperson, Advertising and Public Relations
Vennie Gore, Senior Vice President, Auxiliary Enterprises
To create lasting change, one must first understand the context they are working in. In 2019, MSU administered the "Know More" survey to faculty, staff and students to gauge their perceptions of the current institutional climate, particularly related to relationship violence and sexual misconduct (RVSM). A brief presentation of these survey results will provide participants with insights into key issues related to RVSM, identity-based harassment, and broader concerns that are affecting the MSU community. Using this as a foundation, the session will then explore the power (both real and perceived) that leaders hold, ways leaders can role-model/tone-set positive environments, and why it is important to identify behaviors or situations that could be potentially harmful or disrespectful. Finally, a panel of university leaders who have been working at changing the climate in their units will share their experiences and lessons learned.
Session 2: Assessing the Climate in Your Unit
Experts and Panel
Sharri Margraves, Associate Director, Human Resources
Lydia Weiss, Climate & Response Specialist, Prevention, Outreach and Education Department
Jennie Yelvington, Program Manager, Organization and Professional Development
Workplace climate can be directly linked to productivity, job satisfaction and retention. As the leader, the ability to assess the climate in your unit can help prevent conflict, support team wellbeing, and increase effectiveness in accomplishing unit goals. This workshop will outline a climate assessment toolkit that can be employed immediately within your unit.
Session 3: Building a Positive and Inclusive Work Environment
Experts and Panel
Angela Hall, Associate Professor and Associate Director for Graduate Programs, Human Resources and Labor Relations
Lynn Lammers, Education and Development Artistic Coordinator, Transforming Theatre Troupe
Part presentation and part theatrical case study, this session will explore what it takes to move a unit forward in becoming a more inclusive and respectful place for working and learning.
Building a Positive Work Environment
The 2020 MSU WorkLife Conference asked attendees to tell us one word that describes a Positive Work Environment.  Here is the word cloud that resulted.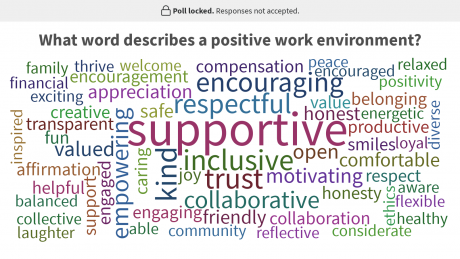 Supervisor Role Models: Outstanding Supervisor Panel
We spoke with 4 winners of the MSU Outstanding Supervisor Award and asked them questions about how they established and cultivate a positive work environment.  Watch this informative video for tips on how you can create a positive work environment in your unit!
How prevalent is workplace bullying?
The 2020 MSU WorkLife Conference asked attendees to tell us if they have witnessed/experienced workplace bullying on campus.
How can we reduce workplace bullying?
Our webinar with 4 Outstanding Supervisors was informative!  They brought several ideas and themes to the forefront.  Here are some ways that you can foster a positive workplace:
Tell the truth
Admit your mistakes
Be willing (yourself) to do work you assign
Listen… with the goal of helping
Ask your staff how they like to be appreciated

Some like public recognitions
Others like private thanks

Be accountable and make decisions transparently
Find and amplify the unique individual strengths on your team
Remove hierarchy, especially during interactions
Be consistent
Don't talk about other team members if they are not present
When addressing conflict:

Use 1st hand information (not hearsay or 2nd hand info)
Gather information from all sides

Have direct conversations when things aren't going well
Understand that your staff members' and your own past employment experiences affect current relationships and work
Remember, your relationships begin during employee interviews
The 2020 MSU WorkLife Conference asked attendees to tell us one thing you can do this week to help build a respectful workplace?
Appreciate someone
Ask for clarification and hold people accountable
Assess my own behavior to confirm I am a good role model
Be brave and ready to call out poor behavior
Be empathetic
Be genuine
Be inclusive
Be kind
Be mindful with responses
Be positive and helpful
Be respectful
Be the change
Bring this topic up in the next all staff meeting
Care
Consider everyone's feelings
Create a space for open communication and respect
Encourage all deans, directors, and chairs to take this session
Express gratitude
Express your faith
Have a conversation with my boss
Have a transparent conversation
Humility
I hope leadership at the highest level of MSU will recognize the prevalence of these issues
Listen
Listen
Listen and speak up when it happens
Listen more, talk less
Mindful of impact
Model by example
Model desired behavior
Motivate
Practice humility and empathy
Reach out to colleagues to see how they are doing
Realize my intent doesn't override someone's perception
Recognize others often
Safely practice intervening with inappropriate behavior
Send resources to department colleagues
Set team guidelines
Share gratitude and appreciation for members or your team
Share resources
Share this information
Share this training with my supervisor and co-workers
Share this training with other colleagues
Share this training
Show grace
Show gratitude
Speak up
Stand up for others
Start off emails with an encouragement
Start the day with a positive note to colleagues
Talk to others who have been impacted
Tell them the Provost is supporting this initiative and they may be interested in learning more
Think before I speak
Train
Treat others the way I like to be treated
Treat others the way THEY want to be treated
Treat others the way you want to be treated
Watch for the incivility spiral
Watch other sessions and pass the information to others
Watch the other sessions!