A Quick Overview:
Workplace bullying and harassment are major impediments to a respectful workplace. They can happen to anyone, anywhere, at any time, in any type of workplace.
Sources of bullying can include one's boss, co-workers, subordinates, clients, subcontractors, the system itself, the public, and the media.
Examples and Definition
Here are just a few examples of the forms that it takes
berating someone in front of others
taking credit for another's ideas
withholding information & resources
rudeness & abusive language
sexist, racist, & homophobic comments
scapegoating & constant fault-finding
unpredictable, explosive outbursts
hounding staff outside of office hours
imposing unsafe working conditions
rumours, gossip & innuendo
impossible deadlines & expectations
threats & intimidation
Definition – Workplace bullying encompasses both intentional and unwitting behaviors (words, gestures, images, actions, and failure to act) which, over time, humiliate, demoralize, or terrorize an employee or group of employees, undermine their targets' credibility and effectiveness, and contribute to a disrespectful or hostile work environment.
Impact on Targets
erosion of self-confidence
anxiety
hypervigilance
loss of energy
social withdrawal and isolation
burnout
physical illness
post traumatic stress disorder
despondency, depression, despair
homicide, suicide
Impact on the Organization
drop in productivity
health problems
sick leave
stress leave
long term disability
absenteeism
staff turnover
litigation
loss of consumer confidence
difficulty in attracting new employees
Barriers to Taking Action
What causes workplace inaction in the face of bullying or harassment?
A reputation as a toxic workplace can be hard to overcome. Why do organizations let it go that far?
Denial
Refusal to admit there's a problem, because then they have to address it
Not knowing what to do
Fear of doing the wrong thing
Fear of making things worse
Fear of legal repercussions
Bystander Roles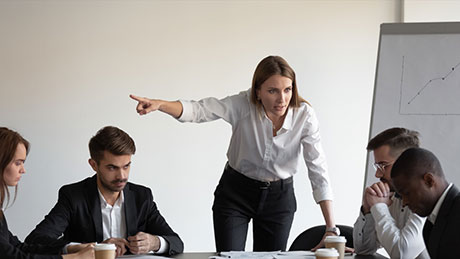 If we want to change the interpersonal dynamics in schools, communities, or workplaces, then we have to equip the people on the sidelines with practical prevention and intervention skills. Observers, being greater in number than bullies or targets, hold the balance of power. If we can prepare them to use that power in positive ways, then we can make significant inroads in bullying reduction.
Typically, there is a spectrum of bystander roles. We're paraphrasing the work of Dan Olweus of Norway here. First, there are the bully's henchmen or sidekicks (who often choose that position because it keeps them safe). Next comes the cheering section who think this is great live entertainment. The largest group are probably the deer caught in the headlights (also known as torn bystanders). Torn bystanders are very uncomfortable with what is happening, but don't know what to do about it, and are fearful that if they do something that draws the bully's attention, they'll be next. Then there are the witnesses, who will go and get someone in authority and say, Hey, there's a situation here that you need to deal with! The smallest group are probably the defenders, those people who are comfortable enough in their own skins to step into the situation and say to the target, Hey, come hang out with us. Those people shouldn't be treating you that way. They can change the situation without even having to confront the bully.
There are additional roles (shown here in italics), described within the work of Rosalind Wiseman. You might be familiar with the concept of the Queen Bee (the relational bully) and their many sidekicks. There's the banker, the one who hoards information about everyone and doles it out as it suits their nefarious purposes. Next is the pleaser/messenger/wannabe, who carries tales back and forth between the two camps in a dispute (Do you know what they just said about you???); they'll actually start or prolong a dispute, because that's when they're important within the pecking order. Fortunately, there's also the floater, the one whom everybody likes for who they are and not for their membership in any particular group. They fit in anywhere, and move easily among the groups. Because they don't obsess about their social acceptance, they're the one best positioned to stand up to the Queen Bee.
If we could move bystanders a few notches along the spectrum, turning henchmen into deer caught in the headlights, and turn bystanders into defenders or floaters, we would have this problem well in hand.
When you see bullying happen, wherever it is occurring, the best thing you can do is step up beside the target and say, I'm here with you if you need me. That does two very important things: (1) You lend support to the target (without making him or her feel that they're so weak that you're having to rescue them), and (2) you put the bully on notice that you disagree with what they're doing and that you're watching them very carefully and might very well decide to report them. This is, of course, much more powerfully done by a group of bystanders, but sometimes it takes just one courageous person to set the course in motion so that others can follow their lead.
Olweus, D. (1993) Bullying at school: What we know and what we can do. Hoboken, NJ: John Wiley and Sons.
Wiseman, R. (2002). Queen Bees and Wannabes: Helping Your Daughter Survive Cliques, Gossip, Boyfriends, and Other Realities of Adolescence. Crown Publishing.
Disclaimer
This Toward a Respectful Workplace web site was originally developed and is based on the research findings of two studies conducted under the auspices of the Muriel McQueen Fergusson Center for Family Violence Research housed at the University of New Brunswick, Fredericton, New Brunswick, Canada. The original research co-chairs, Dr. Judith MacIntosh and Marilyn Noble, along with the current hosts of the site, Michigan State University's WorkLife Office, are happy to share this site with you. It is intended to encourage discussion about how to develop more respectful workplaces, and to identify some starting points and guiding principles. It offers a general framework, but will need to be adapted to specific circumstances and different institutional contexts.
It also identifies a range of disrespectful behaviors and their impact. There is still considerable debate in the field of workplace bullying research about the most appropriate words to use to describe these behaviors. There may be some overlap in the definitions that we've included.
After exploring this Toolkit, you may find it necessary to consult with health care professionals, legal professionals, or others to assist you with any problem that you may be encountering. This Toolkit is not intended to replace the advice or services that they can provide, and we would encourage you to seek the help that you need.
We hope that employees, supervisors, managers, unions, human resource professionals, counselors, and others will find these materials helpful. We welcome any suggestions you might have about how to make this toolkit more useful.
Acknowledgements
Michigan State University (MSU) WorkLife Office wishes to thank the authors at the University of New Brunswick, Dr. Judith MacIntosh and Marilyn Noble, and all of the people who so generously shared their expertise as key informants during the two UNB studies. We also wish to acknowledge the funding support of the University of New Brunswick Research Fund Series 39 for the original work that lead to this 2020 update by MSU.
Funding
Funding for the original project was received from the Canadian Crime Prevention Partnership Program, National Strategy on Community Safety and Crime Prevention during 2006-2008. The updates in 2020 were funded by Michigan State University's S-3 grant and the WorkLife Office.