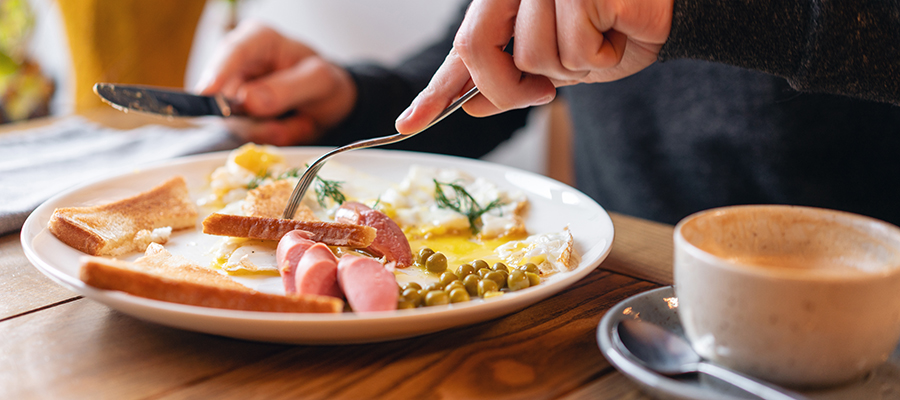 Employees can get into the habit of working through lunch and eating at their desks. The guilt of missing work can create pressure to limit time for lunch. However, taking time for the structure of a regular meal, like lunch, can reduce employees' stress. At the same time, it allows employees to pay attention to what their body needs (Harvard Medical School, 2011).
Paying attention at meals or snacks allows for full enjoyment of the food eaten with no distractions. Employees allowing themselves to calm down, focus, and enjoy the meal can help satisfy appetite and hunger. Hunger can be described as the body's physical cues to eat, and appetite is the cues of what the body wants to eat (Psychology Today, 2019). Unplugging from work or computers and focusing on what is being eaten will lead to healthier eating habits and better overall health (Gordinier, 2012). Additionally, when hunger and appetite are fulfilled at a meal, including lunch, employees can then relax and go about the rest of their day focused on the work they need to accomplish.
What does it mean to pay attention at a meal? Often this is described as "mindful eating," which may imply that employees should put a limit on what or how much of something to eat. MSU's Health4U prefers to describe the act of paying attention at a meal as the manner in which employees eat. The intent of paying attention does not need to be about how much or what must be eaten. The "what" or "how much" puts pressure on eating and interrupts the body's ability to know what it wants (A. Richey, personal communication, September 14, 2020). Paying attention is about employees calming themselves down before a meal and noticing how the food looks, smells, feels, tastes, and sounds, as well as how they feel about the food and how their body reacts to the meal or snack (Crum, 2019). Engaging in a meal or snack while paying attention allows fulfillment, not restraint, from eating. 
Paying attention at lunch does not have to be a long, drawn-out process. It may look like employees choosing food they enjoy, taking a moment before their first bite to take a deep breath and calm themselves, checking in and noticing the food with all their senses, and then enjoying their lunch (A. Richey, personal communication, September 14, 2020). Employees may find something else that works for them, like taking a moment of gratitude before eating lunch to help deepen their attention, but the structure of having a regular meal or snack is what is important. Employees' own method of paying attention to their meal can be their own.
At a Glance
Paying attention at meals allows employees to experience the full enjoyment of eating, with no distractions.
How to pay attention at meals:
Choose foods you enjoy

Take a moment before the first bite to take a deep breath and calm yourself

Check-in and notice the food with all your senses

Then enjoy your lunch
Benefits of mindfully paying attention at meals:
Improved mental health and wellbeing

Increased productivity

Increased job satisfaction
MSU In Action
On-campus, Health4U, and MSU Extension have some nutritional resources that can be applied to mindfully paying attention at meals. Health4U offers Sensible Meals classes with tips for how to manage common barriers to having meals, as well as demonstrating a dish or two. They also offer How to Eat classes that teach participants how to use their internal regulators as a guide for what and how much to eat. Food and nutrition counseling is offered, allowing employees to work one on one with Health4U's registered dietitian, Abbey Richey, to look at how their food choices might impact their health and how to improve their relationship with food, eating, their body, and weight. Visit https://health4u.msu.edu/food/coaching for more information. 
MSU Extension has also written Eat with All Five Senses articles. Each article covers how a different sense relates to eating habits, teaching the reader how each sense can contribute to eating and the taste of food. Reading these articles shows how senses play into everyone's eating experiences, helping them use their senses to focus more on their food to aid in mindful eating.
Resources on Campus
Health4U 
MSU Extension 

Eat with All Five Senses articles 
References
Crum, P. (2019, January 18). Are meals worth the trouble? Michigan State University Health4U. https://health4u.msu.edu/articles/2019-are-meals-worth-the-trouble 
Gordinier, J. (2012, February 7). Mindful eating as food for thought. The New York Times. https://www.nytimes.com/2012/02/08/dining/mindful-eating-as-food-for-thought.html?pagewanted=1&_r=2.   
Psychology Today (n.d.). Appetite. https://www.psychologytoday.com/us/basics/appetite. 
Harvard Medical School. (2011, February). Mindful eating. https://www.health.harvard.edu/staying-healthy/mindful-eating